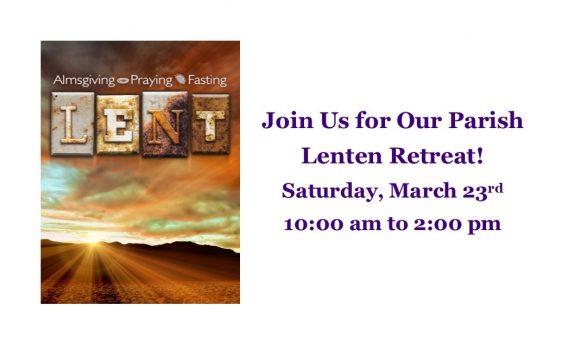 2019 PARISH LENTEN RETREAT
Hello Everyone,
This is Michael Lingaur. I'm the seminarian assigned to Manistee for the second half of this school year. I am writing to invite you to the Divine Mercy Parish 2019 Lenten Retreat. This year's retreat is scheduled for Saturday, March 23rd from 10:00 am to 2:00 pm at St. Joseph Church and the parish center. Lunch will be provided. This retreat will be an opportunity to step away from the busyness of life for a few hours to work with God on our spiritual health. The retreat will focus on three themes: our vocations, prayer, and repentance. As part of the vocational theme, I will be sharing my vocation story with the hope that it will inspire everyone to reflect on what God's plans are for their own lives. For theme of prayer, we will be demonstrating a variety of different prayer methods with the hope that you might discover and enjoy a new form of prayer that you can use to deepen your relationship with the Lord moving forward. These include: Lectio Divina (Divine Reading)1, the Liturgy of the Hours2, and a few others. Fr. Zeljko will provide a reflection on theme of repentance. He will focus on the biblical meaning of the word repentance which is a translation of the original the Greek word: metanoia (μετάνοια). Metanoia is the idea of a transformation of the heart. It is not just an attempt to escape from feelings of guilt or regret. True repentance accesses the power that Christ gives us at our baptisms which enable us to become a new self. This new self is the person of true joy, love, and happiness that we were always meant to be leaving behind the old self with all its despair, isolation, and misery. Join us for this and more as we continue our Lenten journey together moving closer and closer to our celebration of Easter and the resurrection or our Lord Jesus.
Registration is not required, but we would like to get an estimated count of people attending in order to plan for the lunch. Please visit or call the parish office at (231) 723-2619, send an email with your name to parish.office@divinemercymanistee.org, or go online to https://tinyurl.com/DMPLent2019 to register.
In Christ,
-Michael Lingaur
1 http://www.usccb.org/beliefs-and-teachings/how-we-teach/catechesis/catechetical-sunday/word-of-god/upload/lectio-divina.pdf
2 http://www.usccb.org/prayer-and-worship/liturgy-of-the-hours/index.cfm